Class News
Welcome......
Welcome to the class page for Reception & Year 1.
Our morning activities focus on Phonics, English and Maths. Our afternoons are different each day:
Monday: PE, Handwriting and Whole School Assembly
Tuesday: Topic
Wednesday: Topic, Individual Reading and Music
Thursday: Guided Reading, PE and Singing Assembly
Friday: Computing (Year 1), Friday Treat and Well Done Assembly
Sometimes our activities vary to accomodate special events.
This page will be updated throughout the school year with news and pictures of events and activities in class.
Pancake Day
We had a lovely morning celebrating pancake day by making pancakes. We also learnt about the traditions of shrove Tuesday and Ash Wednesday.
We also completed a bar chart showing our favourite toppings on our pancakes!
Chinese New Year
Our lessons this week have had a Chinese New Year theme. These are some of the things we have done:
Looked at artifacts;
Read fiction and non-fiction books;
Made lanterns, masks and mini dragons;
Learnt to use chopsticks;
Cooked a stir-fry;
Eaten fortune cookies and Chinese sweets;
Learnt how to say some words and to count to 10 in Cantonese
The Teachers turned our sand tray into The Great Race and our water tray into a Chinese Takeaway. We even did our very own Chinese New Year Parade around School, complete with a dragon and musical instruments
Maths inside and out!
Reception & Year 1 pupils have been working hard on their maths!
We have used some of the toys from our current 'Toys' topic to learn about counting money and the different coins. We also took our Maths learning outside and practised our subtraction skills.
Wise Owl visit
The children enjoyed a visit from the Wise Owl Bird of Prey Centre where every child got to hold a Little Owl and learned lots of new things about owls. Owls are our transition topic and the children are producing some fantastic work in class.
Water wall fun!
A huge thank you goes to one of our Reception parents, Mr Davies, who has very successfully upgraded our water wall in the playground! We're sure you'll agree it looks fantastic and the children love it.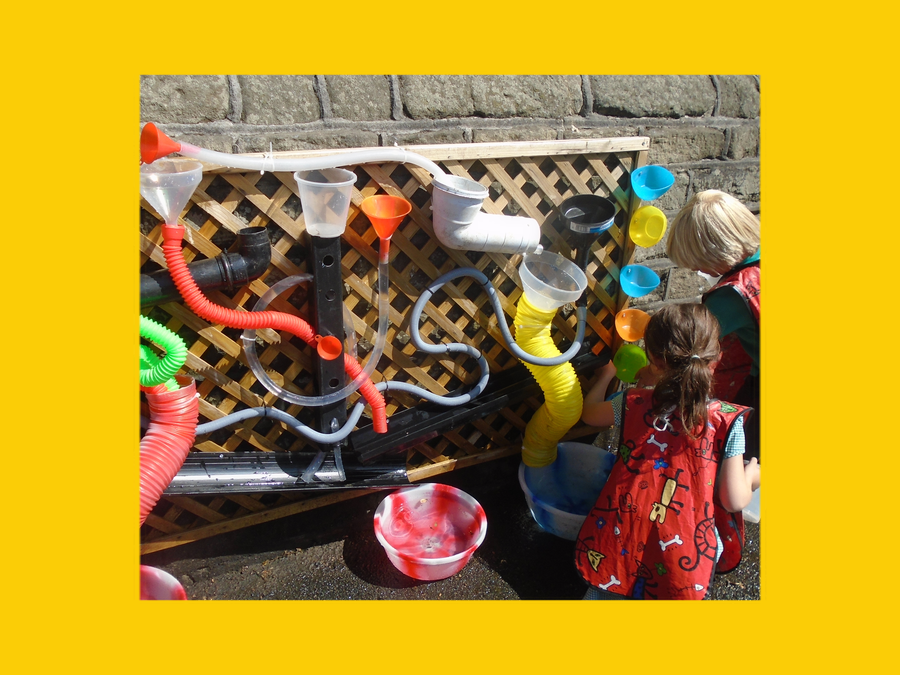 Reception picnic on the rec
On Monday 25th June our current Reception pupils and their parents were joined by our new Reception pupils and parents starting in September for a lovely picnic on the recreation ground!
The weather was very kind to us and we enjoyed refreshments and picnic food (thanks to the PTA) and then played a few games in the sunshine.
We look forward to welcoming our new pupils into school in September.